Journal Entry:
Mon Mar 12, 2012, 7:26 PM
PROJECTS
Thanks for reading!
GROUPS



If you wish to participate in our Hetalia fanmade Videogames, please visit us!

Hello, guys!
Long time no see (again)!
So I've finally moved to Estonia... enjoying my time here quite a lot! I am taking so many photos, I didn't share any yet because pfffff SO MANY THINGS HAPPENED before and after arriving...
Among other things, my computer died so no updates obviously, and of course I had to spend quite a lot of time taking care of my documents to stay in the country, travel, find a place to stay in, go to class in the university... also, I was finishing my Practicum, before that I was in new teaching practices until Xmas, and before I was in my intensive courses... yeah I've been very busy these last months (and years) at least now I am enjoying my time here in Tallinn!
I live in the capital but also went to other parts of Estonia, Helsinki, St Petersburg, some places in Lithuania and Latvia, Norway, Sweden... and next year I'll be living in Bulgaria, and of course I plan to travel around the place and to the neighbour countries as well... this is a dream becoming reality for me, I am so happy to be living and traveling with the other international students, I am learning so much, enjoying so much, I can feel how my mind and soul become "bigger and bigger"!
Of course right now I'm focusing on taking advantage of my time abroad so, still in hiatus from my regular cosplay and drawings activity here... however, even abroad and all, I still NEED to draw regulary I can't live without it, so you can follow MY BLOG
carmenmcs.blogspot.com/
for updates on "little stuff" like sketches, art classes stuff, photos and review of my trips, etc.
So, obviously until I return to my country my projects will go slowly... but steady.
Well then, nothing else to say, that's long enough!!!
Thanks for reading,
sorry for the long hiatus,
but will still keep in touch!
--- CarmenMCS
OTHER STUFF
Create your own visitor map!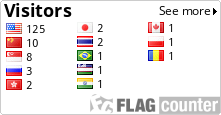 Listening to: Akiko Shikata, Sound Horizon, Atelier Iris...
Reading: The Romance of the Three Kingdoms
Watching: Moomins
Playing: Vandal Hearts, Suikoden, Legend ogfDragoon